5 Bathroom Remodeling Ideas That Will Transform Your Space
If you're looking to update your bathroom, there are plenty of remodeling ideas that can give your space a fresh new look. From simple updates like new fixtures and paint to more extensive renovations like adding a new shower or bathtub, these five ideas will help you transform your bathroom into a stylish and functional oasis.
Upgrade your shower or bathtub.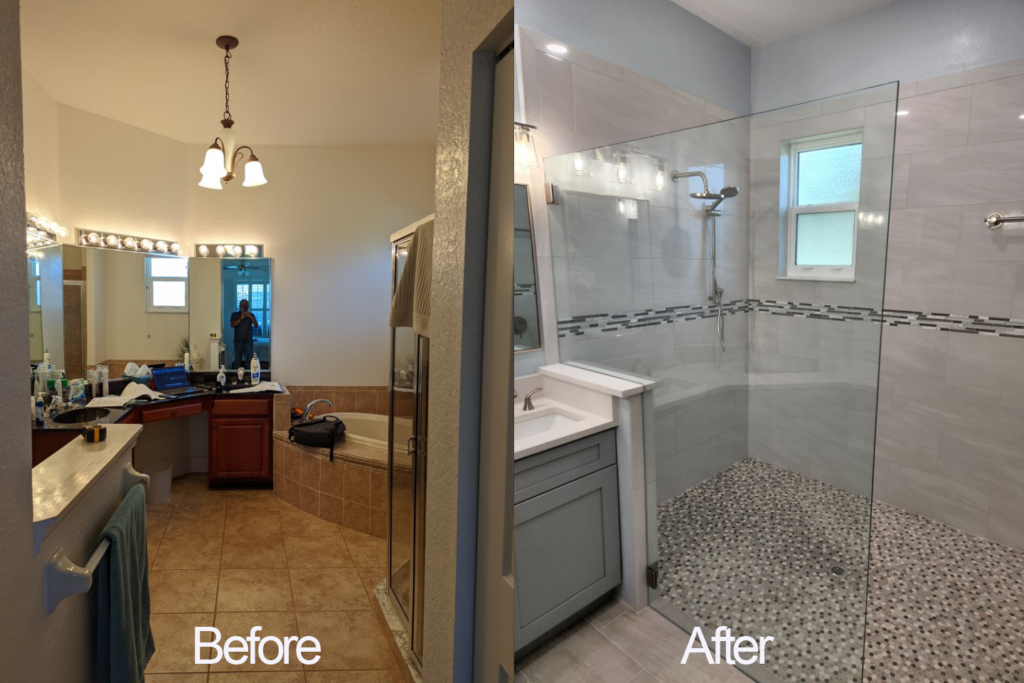 One of the most impactful ways to transform your bathroom is by upgrading your shower or bathtub. Consider replacing your old, outdated tub with a sleek, modern freestanding tub or installing a luxurious walk-in shower with multiple shower heads and built-in seating. Not only will this upgrade improve the overall look and feel of your bathroom, but it will also enhance the value of your home.
Here are a few ideas to consider:
Shower upgrades:

Install a rainfall showerhead: These provide a luxurious and relaxing shower experience with a gentle, cascading flow of water.
Add a handheld showerhead: This versatile option allows for targeted cleaning and is particularly useful for washing pets or children.
Install a thermostatic shower valve: This feature helps maintain a consistent water temperature, even when there are fluctuations in the water supply.
Upgrade to a digital shower system: These systems offer precise temperature control and programmable settings for a personalized shower experience.

Bathtub upgrades:

Consider a whirlpool or jetted tub: These tubs have built-in jets that create a soothing massage-like effect for a more spa-like experience.
Upgrade to a freestanding bathtub: These tubs make a stylish statement and can become a focal point in your bathroom.
Install a deep soaking tub: Perfect for relaxation, these tubs are designed for a full-body immersion, allowing you to unwind and de-stress.
Include a bathtub tray or caddy: These accessories provide a convenient surface to hold your book, glass of wine, or bath essentials while you soak.
Remember to consider your budget, available space, and personal preferences when choosing the upgrades for your shower or bathtub. It's also a good idea to consult with a professional like the Kitchen & Bath Design Center to ensure proper installation.

Bathroom Remodels are popular
Bathroom remodels are one of the most popular home improvement projects according to the National Association of Home Builders (NAHB). Not only are they one of the most used rooms in a home, but they also offer a great return on investment for homeowners. Despite this, many homeowners do not customize their bathrooms to meet their individual needs.
Kitchens are another highly utilized room in the home, and they often get the most attention when it comes to remodeling. It is important to remember that bathrooms also need to be considered when it comes to customizing a home. With proper planning and design, bathrooms can be tailored to fit individual needs and styles. By doing this, not only will homeowners enjoy a room that is highly functional, but they will also be able to maximize the return on their investment. 
Customizing your bathroom during the remodeling process can transform it into both a functional and attractive room. Here are five areas you can customize during your bathroom remodel to create your own unique space:
Modern Minimalism: Embrace a clean and minimalist design for your bathroom remodeling project. Opt for sleek fixtures and fittings with straight lines and a monochromatic color palette. Use materials like glass, chrome, and marble to create a sense of openness and elegance. Consider installing a frameless glass shower enclosure and a floating vanity to enhance the minimalist aesthetic.
Spa-Inspired Retreat: Create a luxurious spa-like atmosphere in your bathroom by incorporating soothing elements. Install a freestanding bathtub or a whirlpool tub for a relaxing bathing experience. Use natural materials like stone and wood to add warmth and tranquility. Incorporate dimmable lighting, scented candles, and soft textiles like plush towels and bathrobes to complete the spa-inspired ambiance.
Statement Wall Tiles: Make a bold statement with eye-catching wall tiles. Choose a unique pattern, color, or texture that complements the overall style of your bathroom. Consider using large-format tiles or mosaic patterns to create a focal point. This can be applied to the shower area, behind the vanity, or as an accent wall. The statement tiles will instantly transform the look of your space and add visual interest.

Smart Technology Integration: Bring your bathroom into the future by incorporating smart technology features. Install motion-sensor faucets and lighting to enhance convenience and energy efficiency. Consider adding a smart mirror with built-in LED lighting, Bluetooth speakers, and voice-activated controls. You can also opt for a programmable shower system that allows you to preset your preferred water temperature and pressure.

Nature-inspired Oasis: Create a calming oasis by incorporating elements of nature into your bathroom design. Use earthy tones like greens, blues, and neutrals to mimic natural environments. Install large windows or skylights to maximize natural light and provide a connection to the outdoors. Add indoor plants, such as ferns or orchids, to bring a touch of nature inside. Consider using natural materials like stone, wood, or bamboo for flooring, countertops, and accents.

Remember, when planning your bathroom remodeling project, consider your personal preferences, budget, and the overall style of your home. It's important to create a space that reflects your taste and provides functionality and comfort.
Now with these 5 bathroom remodeling ideas, you can create a space that is both functional and attractive. Take your time to find the perfect pieces and you'll be sure to love the results. You can also contact one of The Kitchen & Bath Design Center Consultants today and they will help walk you through this process. 
Replacing your tub and/or shower can be a great way to transform the look of your bathroom. The type of tub and shower that you choose can be based on your family's needs and the style you are looking to achieve. Stand-alone tubs and showers provide a more classic look, while combined tub and shower units offer a more modern and efficient option. When selecting a new tub and/or shower, consider the size of your bathroom and the amount of space you have available. You may also want to factor in the style and finish that you prefer. With the various available options, you can easily find the perfect tub and/or shower to update your bathroom.
If you have any more Remodel Bathroom questions check out our article "Top 5 Remodel Bathroom Questions"